Home delivery of heavier goods
Offer your customers maximum convenience with home delivery. This service applies to goods that weigh more than 35 kg. We deliver all the way home to your customers, when and as it suits them best.
Smooth - deliveries both during the day, in the evening and at weekends
Flexible - let your customers choose the level of service they want
Today, 6.1 million Swedes get their parcels delivered with electricity, HVO or biogas
With our home delivery of heavier goods, you can offer your customers a very flexible home delivery. Do you sell kitchens, appliances, furniture or sports and home gym equipment? Then this service suits you perfectly.
We offer the possibility to install and assemble the products in connection with the home delivery. We can also take leftover packaging back with us.
Several different return solutions are also offered, such as collection of the return at your recipient's home or the recipient has the opportunity to return the item in connection with the home delivery of a new item.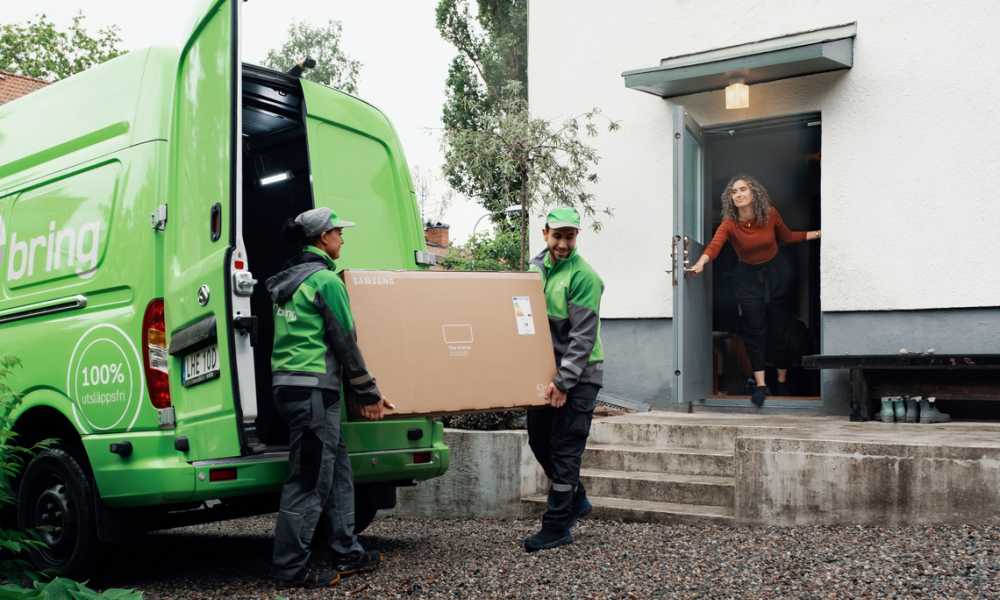 Self-pick up warehouse for consumers
From our self-pick up warehouses we drive home delivers as well as parcels and pallets to companies, but you can also pick up your goods here yourself, if you have chosen that delivery option. We have self-pick up warehouses in around 30 different cities across the country. Let your customers order the goods to our terminal to pick them up themselves.
How it works:

It is important to give your customers the service they want and expect. Adapt the service to the level of service that is appropriate for the current delivery.

1

Carrying in

Here we deliver the goods to the designated place at the recipient's home.

2

Sidewalk delivery (curbside)

Delivery takes place to the sidewalk, plot boundary or front door.

3

Self-pick up warehouse

The customer chooses the date and time to pick up their goods themselves from the selected self-pick up warehouse.

4

Installation and assembly

We also offer installation and assembly on site in connection with the home delivery.
Additional Services
These additional services give your customers extra flexibility and freedom of choice.
Deliveries of larger goods into the home can mean a lot of bulky packaging to take care of for the recipient. Offer your customer help with removing the the external protection of goods, such as corrugated cardboard and protective plastic, and take them to an environmental station for recycling.

Does your recipient need help with installation or assembly? This can be, for example, connection of electricity and water by a qualified installer, suspension of a TV and function test for a dishwasher or washing machine.

For you who want your home delivery parcels to be delivered to the recipient with a signature. The possibility of flexible delivery without an acknowledgement of receipt is blocked. The driver requires a signature at the time of delivery.

Parcels may be lost or damaged on the way to the recipient. We therefore recommend that you take out our supplementary insurance Cargo Insurance. The compensation is based on the fair value of the shipment and does not involve any deductible. We reimburse amounts up to:

100,000 SEK or 10,000 EUR for your parcels
1,000,000 SEK or 100,000 EUR for your pallets
If you do not have Cargo Insurance, your right to compensation is tried in accordance with the provisions of NSAB 2015. Compensation is only allowed when Bring Parcels AB has caused the damage and the level of compensation is based on an amount per kilo - regardless of the value of the parcel's content. The compensation is 8.33 SDR * per kilo for road transport and 17 SDR per kilo for air freight.

The insurance can be taken out for each individual parcel or pallet. Full compensation is given for the value of the goods, and you pay no deductible. It is the policyholder himself who states the value of the goods and it must be based on the goods' costs and any trading profit. This means that if you insure your item for, for example, 1,000 SEK , it must include the invoice value, shipping, insurance premium, any profit and customs.

The maximum insurance amount for packages is 100,000 SEK or 10,000 EUR and for pallets 1,000,000 SEK or 100,000 EUR.

Cargo Insurance can be taken out for

All types of permitted goods, except mobile phones, wine, tobacco products, spirits, refrigerated, frozen and fresh goods or goods that are already damaged.
For shipments to and from all countries except Iran, Iraq and Afghanistan.
For more information about insurance terms, see firstmarine.dk, which is our partner regarding insurance.

You can choose to pay a fixed price for each individual shipment. The price varies depending on whether the shipment is to be sent to Europe or to the rest of the world. However, the premium is the same regardless of the value of the shipment. If you want to insure your parcels and pallets in this way, you can do so easily via our insurance order form, which you will find via this link.

You can also choose to insure all your parcels and pallets for one year ahead. Then each parcel and pallet is insured automatically when you send them with Bring Parcels AB. Agreements on full-year insurance are written at the same time as your customer agreement and the premium for full-year insurance are calculated on the total value of the parcels and pallets that you send with us for one year. The prize is divided and added to the price of each parcel or pallet that you send. If you want to take out a year-round insurance, you sign an insurance agreement with your seller.

Have your recipient return their defective item in connection with the delivery of a new one.

It can be awkward to have to transport away a used item, such as a washing machine, when a new one has been purchased. We can transport used products to an environmental station and ensure that they are recycled.

Being able to easily send both smaller parcels and large, heavy goods in return is as important as it is obvious when something has gone wrong. You can choose whether your recipient should carry the item to the street level when the driver arrives or if you want to order a return with delivery.

If something went wrong with a delivery, e.g. the wrong color on the armchair, you buy an exchange return. Then the driver takes the return with him at the same time as the delivery of the new one takes place.